This is an SMPS type voltage stabilizer for mains voltage (AC input and AC output). This is a new switching topology where PWM is done directly in AC-to-AC switching, without any harmonic distortion. In this topology there is no need to convert the AC input to DC and again convert it back to regulated AC output. This simplifies the design, reduces the component count and improves the efficiency and reliability. The power stage is an IGBT chopper control. The chopping frequency is around 20 KHz which ensure absolutely silent operation and pure sine wave output (no waveform distortion).
Features
Fully solid state controller operated panel.
Fast response time.
Under voltage / over voltage / over current trip.
Indicator to denote healthy power output is available.
Auto / manual operation facility by means of selector switch on front door.
No waveform distortion.
Unique enclosure design with caster wheels for easy portability of panel20 x 4 character LCD for data monitoring.
Keypad for parameter setting.
Manual input/output voltage setting can be done through the controller.
Manual output on load switch for controlled application.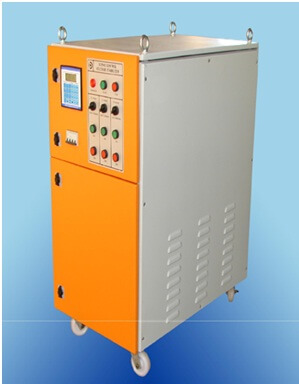 Specifications: Three Phase Air Cooled Digital Servo Controlled Voltage Stabilizer
Capacity
10 KVA to 150 KVA Air Cooled
Type of connection
3Ph – 4Wire @ I/P, Star / Delta @ O/P
Input Voltage Range
360-460 VAC L-L
340-480 VAC L-L
320-480 VAC L-L
(Customized Range Available)
Output Voltage
415 VAC L-L ,+ 1 % (Customized Range Available)
Response Time
10 m Sec
Rate of Correction
Up to 35 Volts/Sec
Efficiency
> 98 %
Protection
Shot Circuit / Overload Protection by MCB/MCCB @ I/P
Over Voltage, Under Voltage, Over Current Trip Protection by
Digitally ControlledPower contactor @ O/P
Trip/Fault Status
Visual Fault Frame on LCD
Single Phase Prevention
Provided by Digital Controller
Cooling
Air Cooled
Load Regulation
1 % Regulation From No Load To Full Load
Ambient Temperature
20 ºC to 55 ºC
Type
AC Servo Based Dimmer Control By Controller
Suitable for Unbalanced Load System
Enclosure
IP 23 – IP 55
Wave Form Distortion
NIL
Effect On Power Factor
NIL