Wet Mix Controller is designed to monitor the flow of materials like Aggregate, Mineral filler and Water. This is a very popular concept used in road construction industry. It has many additional features like Synchronization, Totalisation of material, Timer controls etc. More detail specifications are as below.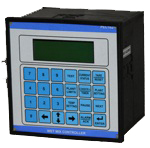 LCD Display (20×4) to show flow indication, totals and set percentage values etc.
System is capable to work in Actual (load cell line) or Set (load cell bypass) mode as well as water rate line/bypass selection.
System has real-time clock so current time & date can be seen on LCD display with the facility for the user to change the settings.
LCD is programmed to have current status frame, different setting and view frames.
System has 24 keys for programming/setting/view parameters.
Auto tarring facility with alarm if any abnormality in load cells.
Total auto reset facility with time and date.
Digital interlock facility for auto/manual for proper sequence and protection.