The Intelligent Engine Controller (IEC) allows the user to start, stop according to different mode of operation and manages the operation time of fuel engine totally unattended. The user can adjust RUN time and OFF time from 0.1 hours (6 Minutes) to maximum 999.9 hours in time mode. There is a most genius features is week mode, in these mode engine start, stop according to real time of day of week. In addition, the IEC will shut down the engine in response to faults. A cause of shut down will be displayed on the IEC and the controller will isolate itself from the battery to conserve energy.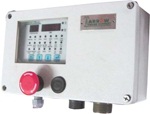 Micro controller based instrument so compact in size.
Digital I/P for alarm fault & analog I/P for battery and alternator status monitoring.
Only 12 V dc power supply required.
System has facility of 8 key for programming facility & different operation.
IEC has three different modes: Manual, Time, Week.
In week mode cycle skip function.
Emergency pushbutton in case of accident.